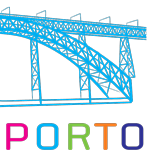 This month's Section in the Spotlight is a true representation of the spirit of the Erasmus Student Network. It was founded all the way back in 1991, but it has not lost any of its enthusiasm, motivation and drive. After all these years, they are still keeping their spot under the lights. The Section in the Spotlight for December 2017 is – ESN Porto!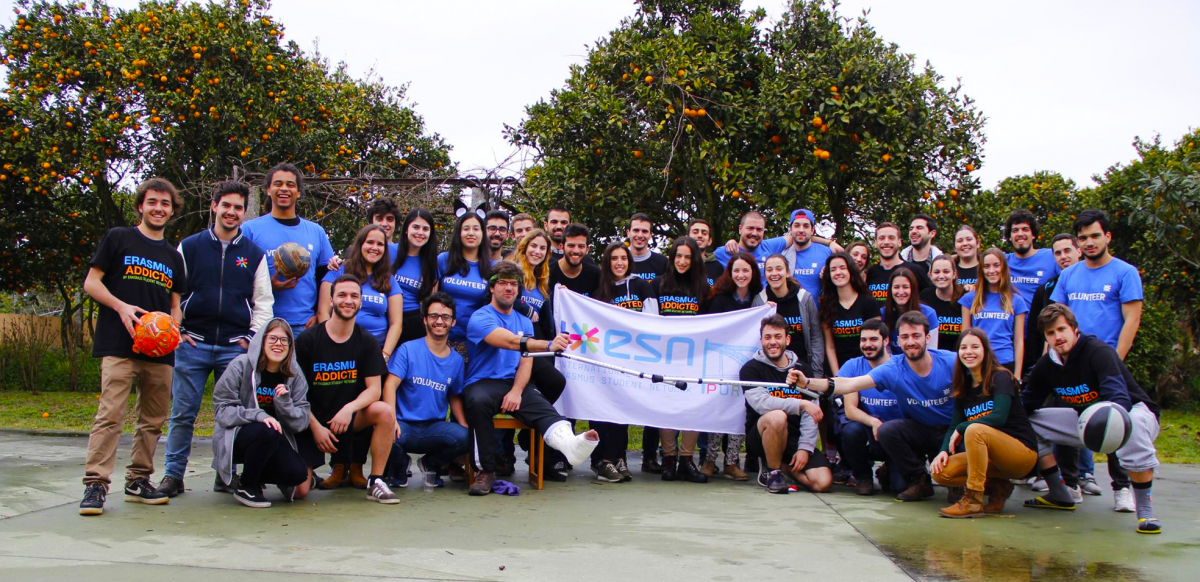 ESN Porto was established in 1991 at the University of Porto and is the oldest ESN section in Portugal. At this very moment, the section has around 45 members, which include: a Local Board of five people (President, Vice-President, Treasurer, LR, and Event Manager); the coordinators of seven departments (HR, Communication, IT, Projects, Partnership, Activities, and Parties); and two supporting positions (Education Officer and Secretary).
Each semester, ESN Porto welcomes new members into their group. In order to make sure the quality of the section is maintained, they have a special system of selecting newbies:
"We do the first screening and invite them to a session where we explain ESN on the international, national and local levels. To be accepted, they need to have more than one academic year left of their university course and be free every Monday night. After choosing the candidates, they join ESN and are called 'Parachutes' – because they fall from the sky. They have the welcome month to show us how they work - which is then evaluated by HR with the help of all the members. If they pass,  they are called 'New Members' and have a maximum period of one year to be nominated by an existing member to receive full membership" -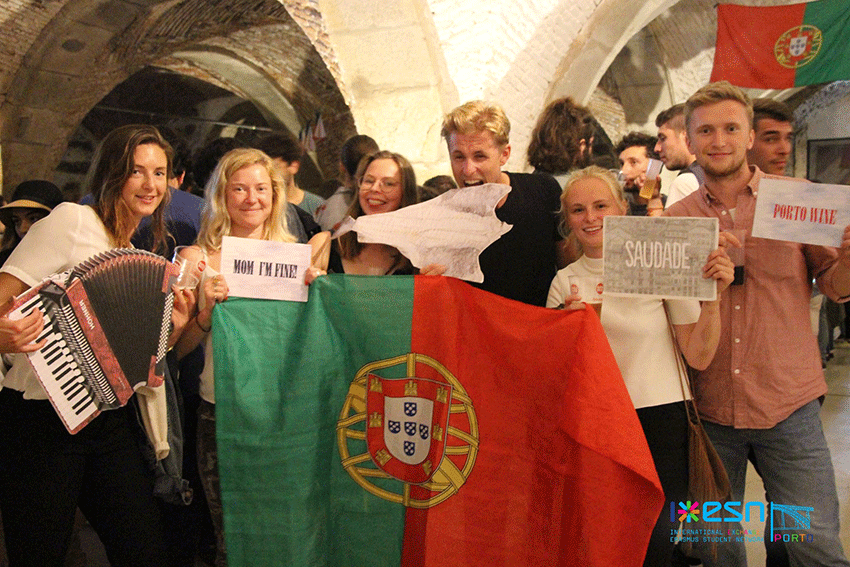 ESN Porto is famous for their events. They have their own ESN Porto Academy, which organises training sessions, workshops and team building exercises. In international ESN circles, they've hosted numerous major events: the Annual General Meeting (AGM) in 1995; the South-Eastern European Platform (SEEP) in 2006; the Council of National Representatives (CNR) in 2009 and 2014; and the International Erasmus Games (IEG) in 2017. They will also host the South-Western European Platform (SWEP) in 2018.
"We organise all kinds of activities, from cultural to educational. We host a trip every weekend (!), mainly within Portugal and sometimes to Spain. During the Welcome Month, we have events every day, such as a boat trip on the  Douro River with Porto wine cellars visit, Surf Day, Portuguese night (our most famous event), City Rally, Night Walk and many others. During the rest of the semester, we organise at least one cultural activity per week, for example, a World Dinner. Every Wednesday and Saturday, we have themed parties and on weekends, as said before, we run trips. Last year, we organised 80 activities, 25 trips and 38 parties" - 
ESN Porto's flagship project is their own brainchild – the Portuguese Night. This is an event they do every semester, during the Welcome Month in a big house in front of the river, decorated with all the symbols and figures of Portugal. Their Erasmus students have the opportunity to try all the traditional Portuguese dishes and assist in the performance of academic tunas – the people that dress as Harry Potter in Portugal – fado groups and Rancho Folclórico – all traditional music.
ESN Porto collaborates with universities and companies involved in education and employability events. In collaboration with the University of Porto. "We believe that we can only improve if we have all of our members on the same level of knowledge or at least work on acquiring that knowledge. ESN Porto has always had a problem trying to plan workshops and training sessions for our members because we are extremely busy with events for our Erasmus students, so now we do it in the first hour of our weekly meeting" - 
The section also implements the ESN projects ExchangeAbility, SocialErasmus and Mov'in Europe. The members regularly travel to other ESN countries' events and are involved in the activities of the Committees, the Audit Teams and the Secretariat.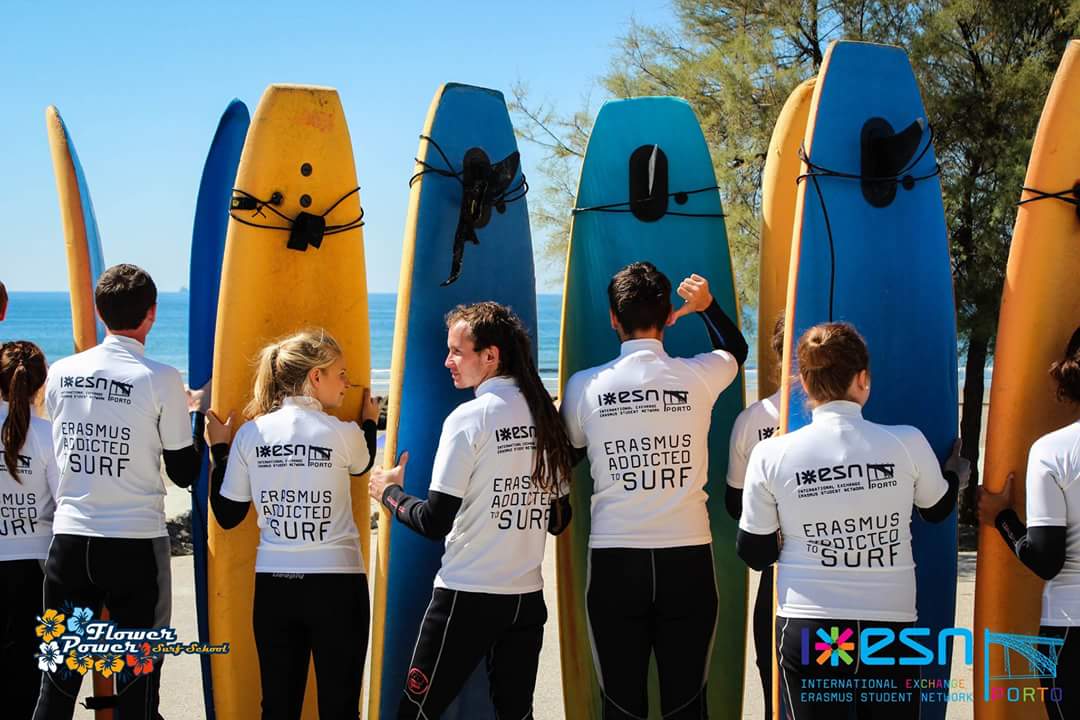 What makes ESN Porto unique? In their own words:
"We work with 15 universities and 30 local partners for 3,500 Erasmus students; we organise two Welcome Months, 80 activities, 25 trips, 38 parties, and 20 international projects activities; we sell 3,000 ESNcards; we have 2 recruitment drives, 12 team building activities, 2 weekend retreats, and 15 training sessions per year. This is what makes us unique – we work hard" -
For their 20th birthday, in 2011, ESN Porto created their own brand: t-shirts which said either "Please, send me back to Porto" or "Erasmus Addicted". Their impressive history really proves that their members are still Erasmus Addicted and that this addiction is not fading away. Parabéns!
Photo credits: ESN Porto