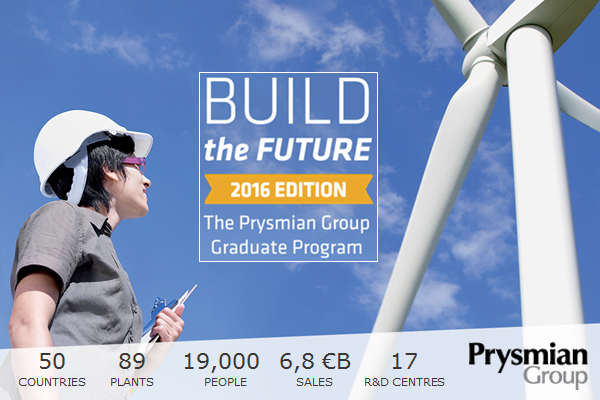 Friday, 6 November, 2015 - 17:10
World leader in the industry of high-technology cables and systems for energy and telecommunications, PRYSMIAN GROUP is a truly global company with subsidiaries in 50 countries, 89 plants, 17 research & development centers and about 19,000 employees. PRYSMIAN GROUP is strongly positioned in high-tech markets and provides the widest range of products, services, technologies and know-how.
WOULD YOU LIKE TO BE ONE OF US?
"Build the Future" is our exciting international graduate program. You'll work side-by-side with mentors and highly specialized teams, learning the skills you need to succeed and make a valuable contribution, right from the start. And when you've got to grips with the local market, we'll send you overseas on an international assignment. Be a little brilliant, from day one.
Permanent contract with competitive salary
Induction Training in our HQ delivered in partnership with a Top school of Management
Job rotation in R&D, Operations and Sales
International assignments within a multicultural Environment
Mentorship program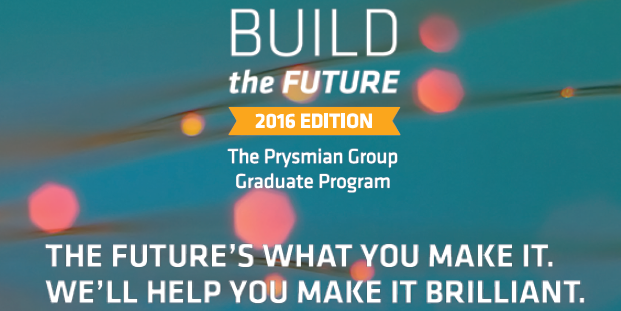 SO WHAT ARE WE LOOKING FOR?
We're searching for senior students and graduates keen to pursue a business management career.
Applications for the 2016 Graduate Program are Open! It will be possible to apply until the end of December.
To apply for the program, you'll need:
Bachelor's degree in Engineering or Business Administration - or be currently working towards one.
To have had an outstanding university career, ideally with experience abroad.
Speak fluent English, yet have an international mind-set.
To demonstrate strong communication and interpersonal skills.
If you think you've got what it takes to succeed in this highly-challenging, yet rewarding environment, fill in the application form on our website and start using all your energy and knowledge to help shape the future of the world.
WHERE WILL YOUR BRILLIANCE TAKE YOU?
Have a look at some of the possibilities that await you:
Australia - Product MKT Sales
Brazil - Front Sales Renewable
France - Planning & Scheduling
Germany - Project Management Sales
Italy HQ - R&D Engineer
Netherlands - Process Engineer
Singapore - Front Sales Oil&Gas
Spain - Logistics Managers
UK - Project Management - Submarine Cables
USA - R&D Cable Design
Read more and APPLY NOW: http://careers.prysmiangroup.com