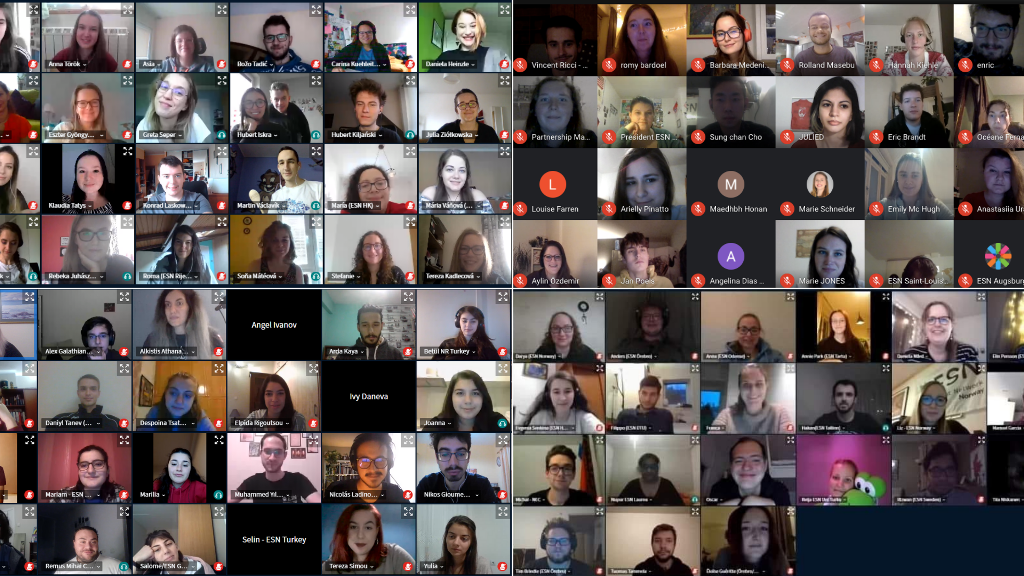 Monday, 30 November, 2020 - 14:56
Every year, Erasmus Student Network organises regional training events for its volunteers, providing them with the chance to meet, learn, share knowledge, best practices, and facilitate collaboration. This year, due to the pandemic, all five regional training events were moved to the virtual environment, which provided ESN volunteers an opportunity to do the same things as before, just from the comfort of their homes. 
"Personally I have rather enjoyed facilitating online. Not only did it give me the opportunity to try out new platforms, methods and tools. It also improved my ability as a facilitator to keep participants interested and involved in my workshops. In person one's mind might wander off, online there are even more ways to get distracted, as a facilitator it is up to you to make sure that doesn't happen."

- Jens Bulinckx, facilitator, ESN Norway
ESN has over 530 local sections across 42 national member organisations that are divided in five regions with each one hosting an annual regional platform: Central European Platform (CEP), Northern European Platform (NEP), South Eastern European Platform (SEEP), South Western European Platform (SWEP), and Western European Platform (WEP). The Northern European Platform took place from the 29th of October to the 1st of November, the Central European Platform, South Eastern European Platform and South Western European Platform all took place from the 4th to the 8th of November, and the Western European Platform took place from the 11th to the 14th of November. The main aim of Regional Platforms is to build capacity in active volunteers on the local level in order to help them improve the quality and impact of their work and empower them to become more engaged in national and international structures of ESN.
"There is no workshop without participants, obviously. The group was so amazing to work with, such motivation and open-mindness, they rocked it. Good luck on your ESNpath!"

- Hubert Put, facilitator, ESN Poland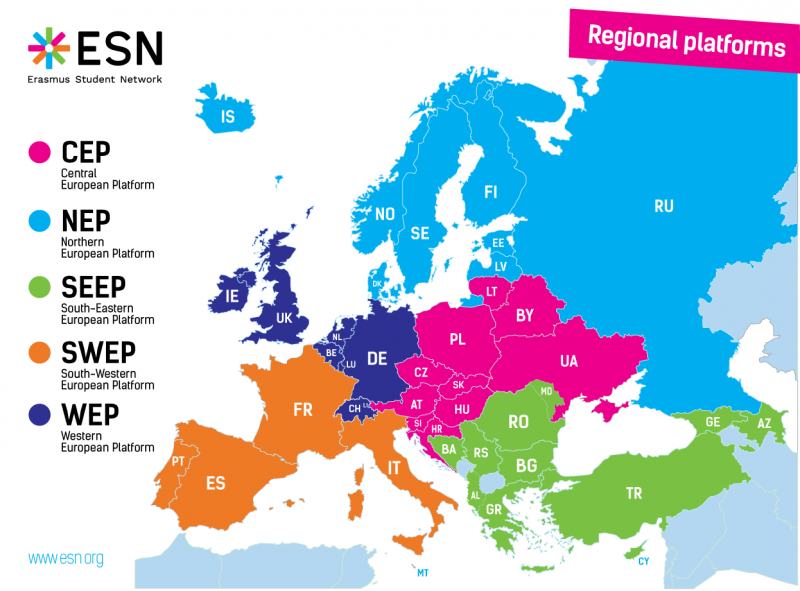 The International Board members, Kostis Giannidis, Tajana Mohnacki, Sabina Achim, João Vasco Oliveira and Kaspars Ābelnīca delivered the opening speeches and invited the volunteers from all over the network to make the most out of their time together. 
"This year is also a year of challenges - the pandemic has posed additional difficulties to what is often an already hard task. You are still here and we are thankful for that. The students need us now more than ever, which means that ESN needs you now more than ever. An organisation is as strong as its people are, and you have proven to be more resilient than anyone could have imagined. Even in the times of crisis, our mission and vision remain untouched and our values are more important than ever. In the time when it is easy to feel divided, we continue to unite. It is important that you always keep this spark within your heart as our network was built by passionate volunteers just like you. Use this as an opportunity to bond, to discover the passions of each other and together write your first lines of the next chapter of the story of the Erasmus generation."
The regional trainings are an opportunity for ESN volunteers to participate in various workshops and sessions dedicated to the priority topics for ESN in relation to having a positive impact in society through exchange students, as well as holding workshops and sessions aimed at the development of the organisations and volunteers on a personal level. The topics covered in the online format of the regional training events covered the vast diversity of the needs of the member organisations, such as organisational culture, organising online events and activities, validation of volunteer work, volunteer management, intercultural dialogue, strategic planning, stakeholder management, HR planning, communication strategy and leadership. 
"Having a main role in such an event is an amazing opportunity and feeling for ESNer especially after hearing wonderful feedback from participants! During this difficult COVID-19 time we had a lot of online events. For that reason I thought participants won't be active during the event but ESNers of the SEEP showed me that it's wrong! Not only sharing my knowledge and experience I learned so much from people. Once again I am glad to be part of this family."

- Muhammed Yılmazçoban, Regional Coordinator, ESN Turkey
Moreover, the participants had a chance to learn more about Responsible Party and the dangers of binge drinking and high alcohol consumption, especially now during the pandemic. Pernod Ricard's Céline Meyer introduced the story behind the project and the value of the peer-to-peer approach in raising awareness about the effects of alcohol consumption among students to the ESN volunteers. The participants had an opportunity to take part in the Responsible Party Challenge and win a prize upon the completion of the three Responsible Party Quiz modules. 
"SWEP 2020 has been a nice motivation for the current situation. It has given me back the ESN spirit. Although an online SWEP is not the same as the physical one, it still has the same values and still carries a lot of passion and work. I am very happy to be able to participate in a great online event!"

- Giuliana Kotkievicz, participant, ESN Portugal
Both facilitators and participants found the event equally inspirational and educational. We can only hope to continue showing the strenght of the Erasmus Generation through initiatives and willingness to support lifelong learning and non-formal education no matter the external circumstances. 
"Participating at CEP was an amazing opportunity to hold workshops about HR management and Intercultural Dialogue for volunteers from all over the region, putting into practice online facilitation methods and tackling current problems such as volunteers' demotivation and stereotypes. It's wonderful to be a witness of the bravery of this generation of ESNers who keep their courage despite the difficult times we're living in."

- Nicolás Andrés Ladino Camargo, facilitator, ESN France