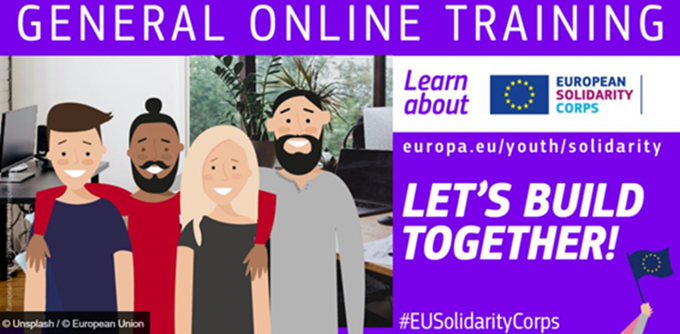 Thursday, 17 December, 2020 - 11:35
European Solidarity Corps volunteers and those who are thinking about joining the programme now have the opportunity to participate in an online training that provides a learning space and concrete tools for participants of the programme to use before, during and after their volunteering, traineeship or job, making the training an essential part of the preparation for deployment as well as reintegration once the experience comes to an end. 
The General Online Training is designed and available to everyone registered in the European Youth Portal. Training is organised in five clusters, bringing the topics of the European values, possibilities the programme offers, finding a place in a new environment, using the knowledge and skills in the future and creating a space where others will be able to experience the same opportunities. The training is available in 24 official EU languages, as well as Icelandic, Macedonian, Norwegian and Turkish.
There are five courses available:
How do you EU: Here, you will have the opportunity to receive more information about the European Solidarity Corps, to explore the EU's fundamental values, and to get an insight into what role the EU plays in your daily life.

Have it your way: Do you see yourself volunteering? Or are you looking for a traineeship or a job? Learn more about the different opportunities the Corps can offer and figure out which one might be best suited for you. You'll also find some practical preparation tips before the start of your experience and will learn how you can grow through it.

A whole new world…: Starting a new adventure in a foreign country can be a little scary at first and you might be unsure on how to act towards and communicate with others who might be from very different cultural backgrounds. Don't worry, we got you covered! Have a look at this training module to learn more about your own safety, how to adapt to a new reality and to communicate in intercultural contexts. 

The journey continues: Have you returned from your European Solidarity Corps experience already? It's time to help you reflect and to guide you through the necessary steps to complete your Corps experience, but it's also time to look forward to potential next steps! Explore what other opportunities exist for your future.

Broaden your horizons: Do you need special skills for a project or simply want to learn something new? Have a look at these courses, including topics like advocacy, leadership, fundraising, and many more.
The ESC General Online Training was designed and developed by ICF and ICF Next, MDF Training & Consultancy and UP-Learning, with the support of the Advisory Board and the Youth Panel, which gathered (former) volunteers and youth workers. One of the main responsibilities of the Youth Panel was to provide advice and feedback on the draft training programme, the training methodology and the content of the e-learning courses to ensure all deliverables are youth-friendly, engaging, inclusive and respond to the needs of the target group. ESN was represented in the Youth Panel by our former volunteer and current ESN Event and Project Officer, Zrinka Trusić, whose story about volunteering in the ESN Headquarters found a place in the content of the training.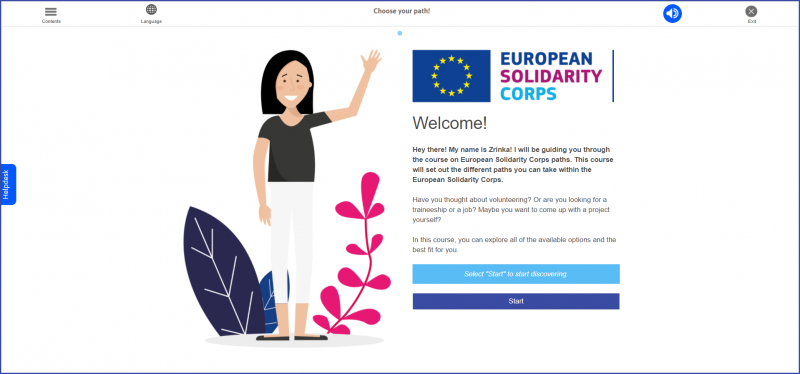 European Union's initiative European Solidarity Corps was launched in 2016. ESC opened the doors to all young people aged 17 to 30 to take part in solidarity activities across the EU that focus on emphasising the importance of social inclusion, cohesion, tolerance and understanding while creating a space for personal and professional growth in different contexts. The initiative is coordinated by the EU's Education, Audiovisual and Culture Executive Agency (EACEA), in cooperation with the Directorate General for Education and Culture (DG EAC) of the European Commission.
Find out more about the European Solidarity Corps!