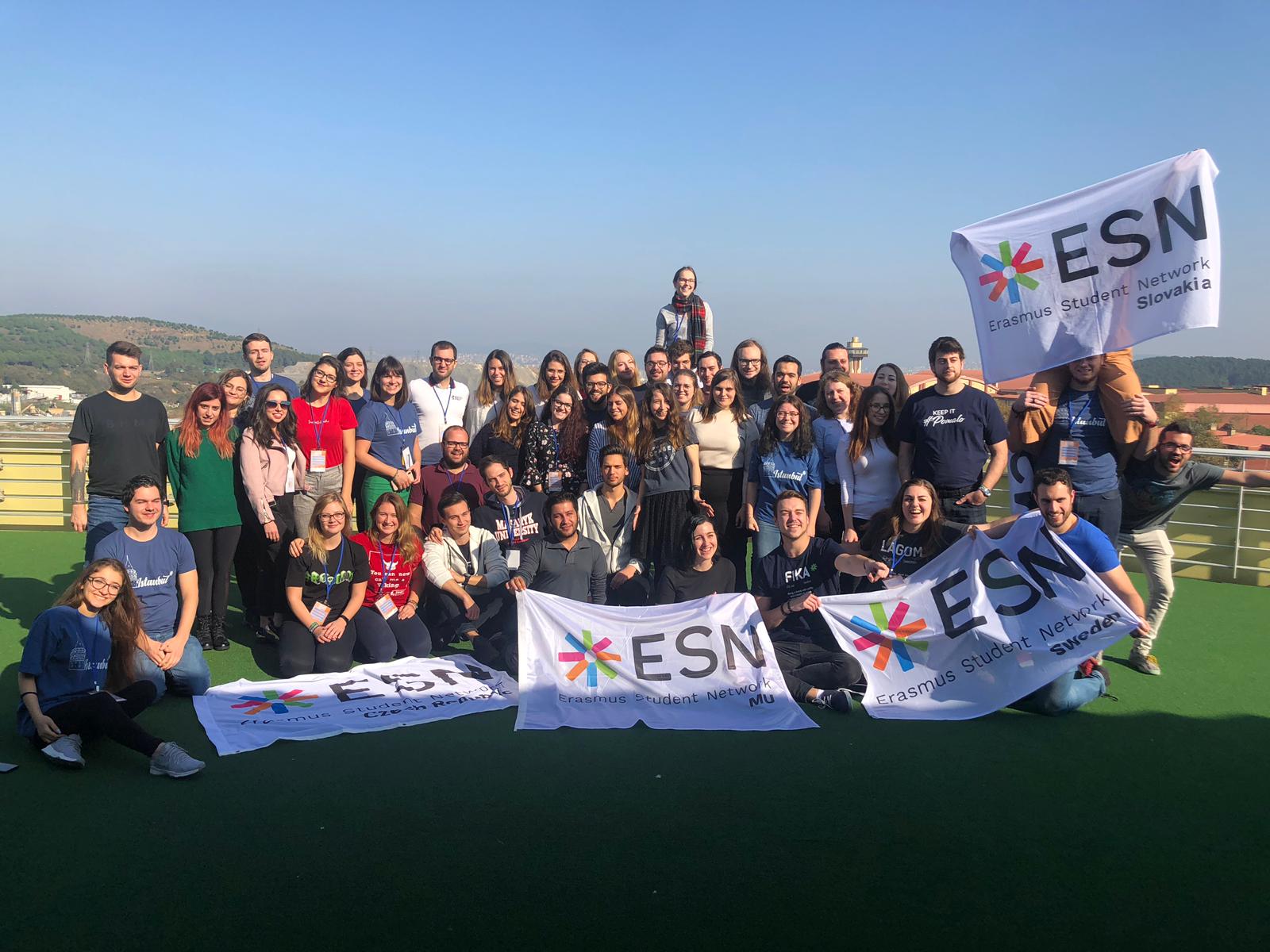 Monday, 23 December, 2019 - 10:20
From the 14th to the 17th of November, Erasmus Student Network MU welcomed 42 board members from 19 National Organisations of the Erasmus Student Network for the National Boards' Meeting (NBM), a training event taking place at the confluence of two continents, in the Turkish capital Istanbul. 
Supported by the Maltepe University, the training event created the space for the ESN volunteers to gain knowledge, develop and enhance their skills, as well as discuss the topics relevant for the future work of all the levels of the organisation. The workshops, based on non-formal education methods and delivered by trainers from the ESN pool, allowed participants to dive into topics such as Leadership, External Communication, Advocacy, Training Design, Conflict and Stress Management, Sustainable Development Goals, Public Speaking and more. 
The participants used the opportunity to exchange ideas and practices, discuss their countries' realities and plans, as well as raise questions about different aspects of their daily work within their organisations, and about the cooperation with different stakeholders. 
"As an ESNer trying to serve the same cause as the other ESNers around Europe, being the Vice Head of the Organising Committee of the NBM Istanbul 2019, the first NBM organised in Turkey, was so special for me. I cannot even explain with words how amazing it was to organise NBM Istanbul and host all of my ESN friends who perform their tasks at the national level. I am thankful to the whole network for giving us this chance. I truly enjoyed seeing my friends happy during the event and became emotional while listening to their great feedback during the closing ceremony. I am so proud that I am a part of a great organisation like this. Again, thanks to our whole network for trusting and giving us this chance. Special thanks to our participants, to the Training Coordinator Zrinka Trusić and the whole Content Team, and to İrem Zeytun as the President of the ESN Turkey for their great support. As ESN MU, we are looking forward to doing more for this amazing network." - On behalf of the whole Organising Committee, Oğuz Özdemir
"After attending two NBMs as a participant, it was refreshing to see the event from the other side. This time, I didn't focus on my own learning, but on the learning of all the participants and the added value for their ESN countries. However, I didn't leave empty-handed. I learned a lot about the needs of the network, and most importantly, I had an opportunity to co-facilitate workshops with great ESNers who opened new horizons for me and showed me different ways of delivering a message to the audience." -  Jirka Beran (ESN Czech Republic), trainer
"As this was the first time giving a multiple-day training at an international event, I was quite nervous and excited at the same time. It was a great opportunity to strengthen my skills, as well as to gain confidence as a trainer. No matter what you do, stay true to who you are and give all you got to make the best out of the learning experience for yourself and others. I definitely want to continue to develop myself as a trainer and these kinds of opportunities are just pure gold." - Mary Wardak (ESN Sweden), trainer
"This NBM was truly an inspiring experience because I think there is nothing better than people coming together with a goal to learn something new and then bring that knowledge back to their countries. As a Communication Manager, I am really glad that I had an opportunity to learn more about different successful ways of communication and also about all what goes into creating training events. I have always said that one of my priorities is to transfer my knowledge to other generations of ESNers, so both topics created a beautiful narrative that will help me later in my ESN life. I would say that I have achieved my goals I have set before the event and the new connections from the event are also a lovely addition because it's always great to meet people who can understand what is going on in your country. Moreover, I believe that the best practices we shared with each other will be beneficial for everyone. This was my second NBM, and I still believe that NBM is one of the best types of events that we currently have in our network because what could be better than knowledge, new friends, and great memories in one place?" - Ugnė Zieniūtė, ESN Lithuania
 
"The National Board's Meeting helped me to understand better the true potential behind learning about the realities of other ESN countries and the cooperation with one another. Additionally, I got very helpful insight into the theory behind some areas of our volunteering work, such as Communication and Training Design. The skills and knowledge I gained in this meeting helped me to have a more clear path on how to improve the situation in my ESN country and pass on the knowledge to other ESNers." - Pedro González, ESN Germany