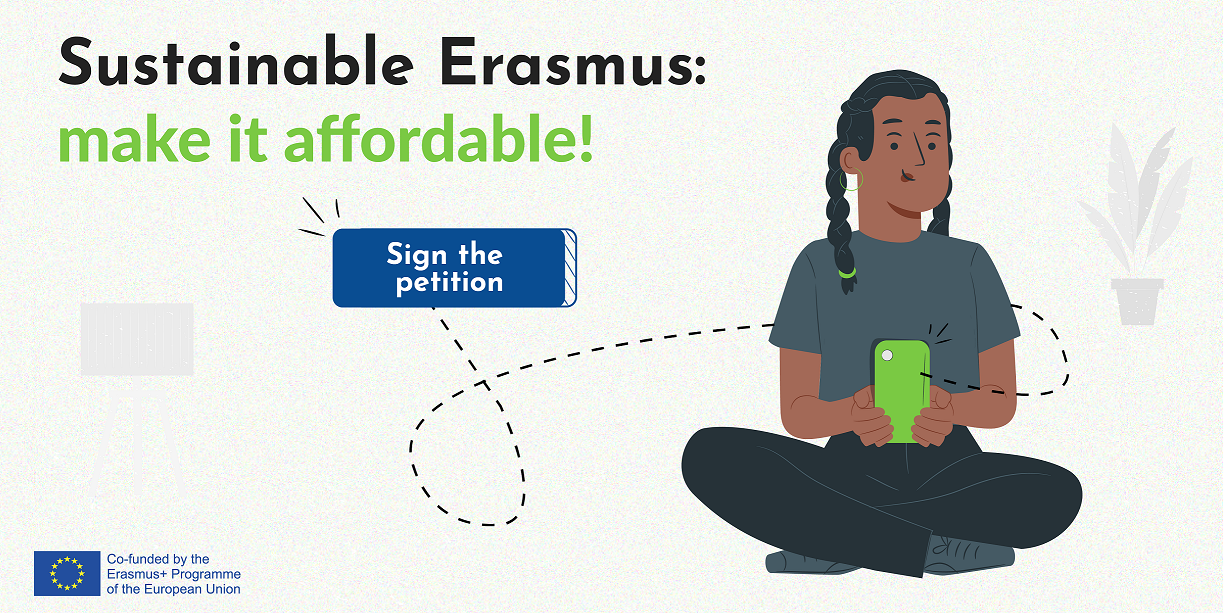 Wednesday, 29 June, 2022 - 16:56
The Green Erasmus consortium, led by ESN International, has just launched the petition "INCREASE SUPPORT FOR GREEN TRAVEL IN ERASMUS+" to ask EU institutions for more funds to travel sustainably. Specifically, the petition's demands are:
Increasing the current €50 to a universal top-up of up to €250 for green travel, proportionate to the distance covered  

And increasing the current 4 days up to 7 days of additional individual support covering additional subsistence costs and/or accommodation needs linked to green travel - for the round trip
The goal is to collect 5000 signatures and make green travel a possibility for all students by creating favourable conditions. The Green Erasmus research on the habits of Erasmus students reveals that "although most of the students seem concerned about climate change, […] the cost/price emerges again as a big limitation when it comes to consumer and travel choices and greatly affects students' decisions and possibly hinder the development of more sustainable habits''.
The Green Erasmus consortium acknowledges that systemic changes are immediately necessary but their implementation requires time and massive infrastructural investments, whereas immediate action is needed. That is why the petition's demand focuses on the reform of the current green top-up, the 50 euros students can get if they travel by sustainable means of transport, which is insufficient to cover the cost difference between a standard and green travel ticket. 
The petition is featured on the recently published Green Erasmus portal, which provides students with informative content to have sustainable behaviours in the different aspects of the Erasmus exchange's life cycle. Besides gathering educational material, the portal conveys information interactively through the use of games and a quiz. Higher Education Institutions are welcome to use this openly accessible online educational tool to raise awareness of the relationship between Erasmus exchanges and environmental impact among their students.
The Green Erasmus petition and portal have been developed within the Green Erasmus project, which strives to improve the environmental sustainability of the Erasmus+ Programme by raising awareness across the European Higher Education sector and empowering student organisations to be the agents of change. The project consortium consists of Erasmus Student Network (ESN), European University Foundation (EUF), European Students' Union (ESU), Université Libre de Bruxelles (ULB), Technische Hochschule Köln (TH Köln) and Students Organising Sustainability UK (SOS UK).
Sign the petition and surf the Green Erasmus portal. 
For any questions, do not hesitate to reach out to [email protected].