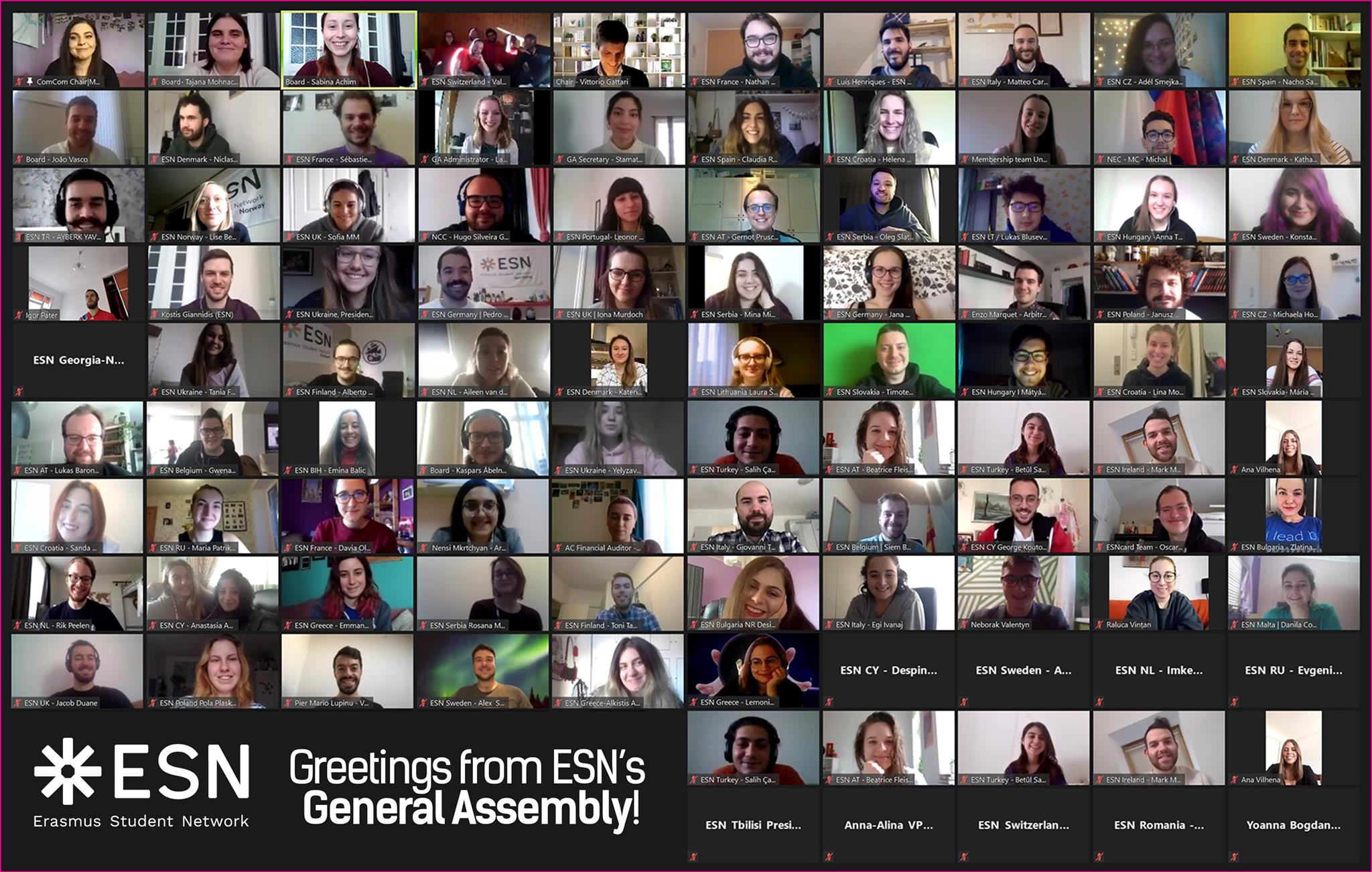 Thursday, 10 December, 2020 - 16:37
From November 27th to 29th November 2020, ESN helld its General Assembly (GA) meeting where more than 100 representatives from 42 national member organisations of ESN from across all corners of Europe gathered to discuss the upcoming Erasmus+ programme, exchange and mobility opportunities for students and youth, engagement and involvement of young people and their role in the future of Europe, as well as decide on the future of our network.
This meeting also carried a special significance for our organisation, as this was the very first GA meeting after ESN had adopted a new governance structure in 2019 where we have transferred all the representative, consultative and decision-making power to the national member organisations. The General Assembly meeting is a successor of the Annual General Meeting (AGM), which used to be the main decision-making body of ESN consisting of representatives of local member organisations (today counting more than 500) for 30 years. Unfortunately, in connection to the restrictions of the COVID-19 pandemic, this historical moment had to be marked in a virtual environment - yet, this didn't stop us from having fruitful discussions and making decisions for the sake of our network, volunteers, and exchange students. This occasion was also made special by the presence of the Vice President of European Commission Margaritas Schinas, who had addressed our volunteers in a video format and thanked them for working for and supporting the Erasmus Generation.
"I strongly commend the work of the Erasmus Student Network as a bridge between the Erasmus Generation and the European Institutions through continuous and fruitful collaboration."

Margaritis Schinas, European Commission Vice-President for Promoting the European Way of Life
Erasmus Student Network continues to grow!
ESN is now richer for two new candidate member organisations! Representatives from the Student Parliament of Yuriy Fedkovych Chernivtsi National University in Ukraine and from International Mobility Participants Club Yerevan in Armenia have presented their candidacy for membership in ESN. 
This is the second ESN initiative in Ukraine, however, ESN didn't have a presence in Armenia until now. We are always happy when we have an opportunity to welcome new members in our network and provide services and activities to even more international students, and ESN's main priority has always been consolidation of membership in the European Higher Education Area (EHEA).
Erasmus Student Network adopts a global dimension!
In 2019, ESN took the strategic decision to strive for a global dimension of the Erasmus Student Network by adopting a new  vision:
"By 2025, ESN will be the global network of the Erasmus Generation, committed to improving international education and providing self-development opportunities to two million young people, fostering intercultural understanding and creating positive change in society."
ESN was always statutory bound to the EHEA and we could only approve new member organisations within the EHEA borders. This year, the network took a decision to remove the borders limitation from our Statutes and open ourselves to the possibility to have ESN member organisations outside of the EHEA. The main priority for ESN is the Southern Mediterranean region and in the next few years we will aim to establish membership there. 
ESN had envisioned to provide services and activities and reach even more students, improve the quality of student mobility and foster internationalisation of communities outside of Europe, and provide self-development opportunities to even more students, youth and volunteers. And now, that vision is closer to reality.