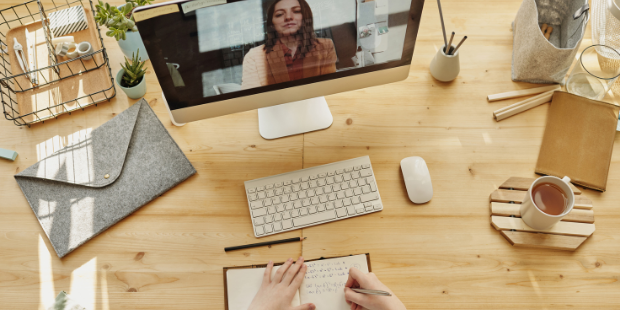 Thursday, 12 November, 2020 - 14:49
From the 21st of September to the 18th of November, the National Board members of the Erasmus Student Network's national member organisations had the opportunity to take part in a capacity-building event which brought together ESN volunteers from all over Europe. 
Although the participants could not reunite on the spot with their colleagues as usual, having the training in an online format still offered space for them to gain knowledge, develop and enhance their competences, as well as interact with each other. Over the span of four weeks, the content was delivered mainly by the facilitators of ESN's pool of trainers and the workshops were based on non-formal education methods. The participants had the opportunity to learn more about the topics relevant for their daily work in ESN, but also about the ones that reflect the changes and challenges the global pandemic brought, such as crisis management, online communication and collaboration, engagement of volunteers, strategic thinking and planning, intercultural understanding, volunteer management and the validation of volunteer work. 
The National Boards' Training not only tackles the organisational needs of our member organisations but also strives to capacitate volunteers to face current challenges and gain knowledge on topics of high importance for their volunteer and organisational development.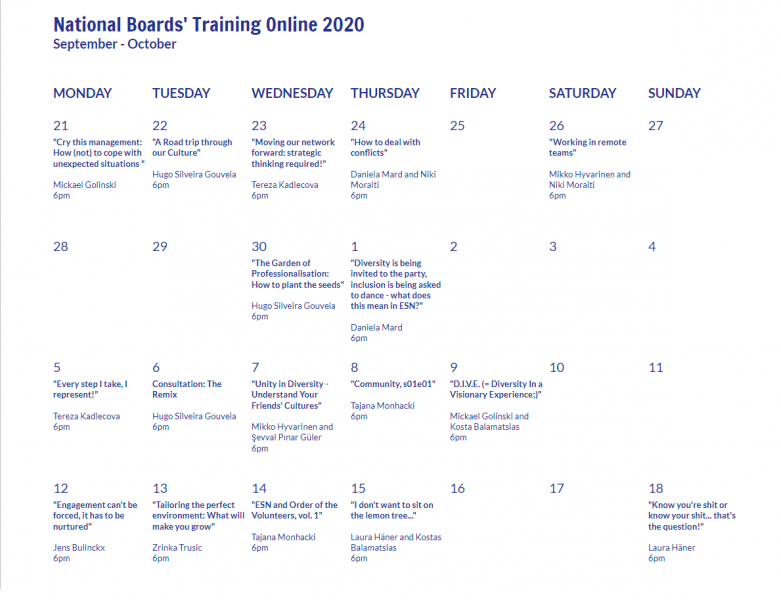 Event agenda
The facilitators had the opportunity to try out something new and exciting, gain more competences connected to online facilitation, explore different tools that add value to the learning process and made them creative in a different way than they are used to. The online format did not lower or take away from the quality of the event, the importance or benefits this event has for our volunteers. It simply allowed them to take part from the comfort of their homes whilst still reconnecting with familiar faces and getting to know new ones.
National Boards consist of volunteers who steer ESN's national member organisations' work in accordance with the priorities of the ESN International as well as the needs of the (international) students.
It was refreshing to be able to help a new generation of National level ESNers with their struggles, the engagement they showed makes me confident that they will achieve great things even with the ongoing crisis.

Jens Bulinckx (Austria), facilitator

Facilitating for the Online National Boards Training was a great experience for me, as it gave me the opportunity to tackle new topics and new methodologies in a new (online) setting, and to work with trainers and participants from all over the network, despite these times when distances seem bigger than ever.

Niki Moraiti (Greece), facilitator

It is extremely fascinating and rewarding to be a part of this new, online, ESN. The opportunity to participate and to hold workshops is more inclusive than ever and may lead to great new opportunities if we open our eyes and see them.

Margarita Kuvaldina (Czech Republic), facilitator

It is always nice to give something back to the network and see all the people who are leading the organisations and do care about the future of ESN, of our members and international students.

Tereza Kadlecova (Czech Republic), facilitator

It was amazing to take part in yet another formative event organised by ESN. There are always so many new things to learn, and to be able to reap the benefits of the work of all the people who put an effort into organising it, in these times when everything is online, just proves how great a network ours is. As hard as it may be to find motivation with all the uncertainty surrounding us, it was wonderful and lifting to see old friends and make new ones, all while enriching our knowledge to further better ourselves.

Alex Pieptea, ESN Romania

I am very grateful for this opportunity and for all the efforts made by the organising team. What I constantly was feeling during the three workshops that I joined were the powerful sense of the ESN community and the highest level of shared and mutual trust, care and support. Above all, now I have plenty of ESN-related insights that I am planning to implement, and many new Facebook friends from other ESN countries!

Irina Klimova, ESN Russia

With the current world situation, I was beginning to lose hope for all events we were supposed to have in ESN, but seeing how much effort people were putting into the organisation of National Boards Training motivated me to move forward and inspire our local volunteers to do the same. I participated in six workshops, and each one of them gave me a spark of knowledge in a different field, from which some I didn't even know I needed.

Lina Mohorić, ESN Croatia

We all know what we do in ESN, we even know how we do it, but we do not always understand what all this stuff is done for. We should always remember our mission as ESN, and everything that we are doing has to be connected with it.

Yelyzaveta Pidopryhora, ESN Ukraine