Friday, 18 December, 2020 - 10:46
Dear partners and friends,
This year was a very challenging one for the world, but despite the bad and the ugly, together we managed to collect good moments too. We would like to thank you for your continuous support and collaboration in carrying out our mission of enrichment of society through international students all along 2020. As we near the end of the year, we encourage everyone to stay safe and take care of each other, but also to take a moment and be grateful for all the accomplishments a network of motivated young people can achieve.
Take a look at those good times we had so far.
It might seem like nothing happened in 2020, but together we achieved the following: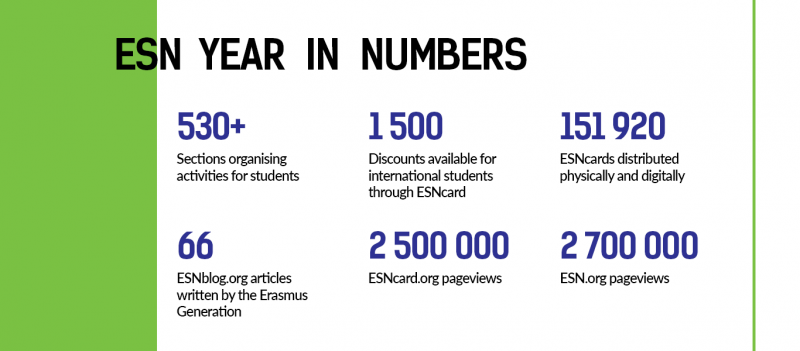 We distributed 151,920 ESNcards in 31 countries, providing an opportunity for international students to enjoy 1,500 discounts and to participate in all the activities organised by our 520+ sections.

ESNcard had 2,5 million and ESN.org had 2,7 million page views, from which 270,000 views went to the ESNblog where we give voice to the Erasmus Generation. ErasmusIntern.org had an astonishing number of 26 million page views, providing many young people with opportunities to find their traineeship abroad. In 2020, the platform had 3,276 DOTs offered with a total of 26,332 applications from students.

We celebrated 11 years of partnership with Pernod Ricard through organising the biggest online Responsible Party programme. With a series of videos #SharingGoodVibes, a live concert, as well as a new online training platform promoting responsible drinking, we look forward to more years to come next to our partner.

We renewed important partnerships with Ryanair, Hostelling International, AOC, Twisper, Dr Walter, and Pernod Ricard. We also made new friends with Eurosender, Perlego, Bright Trips, and NordVPN. 

Following continuous advocacy efforts to make the new Erasmus+ programme more sustainable and inclusive, the Erasmus Student Network joined forces with the European University Foundation and the European Students' Union to launch the #Erasmus500 Initiative.

We worked together with different organisations to ensure students in UK and Switzerland can maintain and improve their access to international education through the biggest European exchange programme. 

We teamed up with UNESCO  to safeguard the futures of education by sparking a dialogue about the priorities and problems of the Erasmus generation. 

In order to grasp a better understanding of the barriers and enablers of mobility for students, and to ensure more equitable access for all students regardless of background, we launched the Social Inclusion and Engagement in Mobility survey.

We contributed to the European Parliament's efforts in making the Erasmus+ Programme more environment friendly by kicking off two projects to promote sustainability on exchange, Green Erasmus and Erasmus Goes Green. Together with Eurail, we surveyed the travel behaviour of Erasmus+ students during their mobility.

¡Say hola to OLA! After years of working on the project, the new version of the Online Learning Agreement platform has been released and is now available at the fingertips of the Erasmus Generation, as an integral part of the digitisation process of the Erasmus+ programme. 

We understood that despite their low numbers in participation, a high number of students with disabilities want to go abroad, but inclusion is not sufficiently present in mobility strategies. More information can be found in the EPFIME research report.

Through the work for the ErasmusJobs report, we found out the main skills that students gain while going on Erasmus+ mobility.

We are bringing the student angle in the development of the new Erasmus+ App, offering connections to several ESN tools. Join us in January for the launch!


In collaboration with the Council of Europe and its European Youth Centre in Budapest, we delivered in November the online Study Session "Back to School". Four trainers, three of them from the ESN's pool of trainers, and sixteen ESNers, from eleven different countries, tackling topics such as Global Citizenship and Education. During the weekend of growing enthusiasm, ESN invested in its volunteers with the promise to create more and better Erasmus in Schools activities for the Network and Society. 

During the first-ever General Assembly of Erasmus Student Network, we gathered 42 National Organisation representatives online and discussed the future of the network. One of the positive outcomes of the Assembly was the decision to remove the borders limitation from our Statutes and open ourselves to the possibility to have ESN member organisations outside of the EHEA, starting with the Southern Mediterranean region. Like this, students everywhere will have the possibility to participate in ESN activities.

Together with a dedicated team, we started preparing the concept of the Erasmus Generation Meeting, the largest student event which will gather Erasmus+ alumni and internationally minded-youth. 

On the ranking of Transparency At Work, the Erasmus Student Network was rated as the fifth-best employer in Brussels in EU affairs. The ranking is based on the opinion of young professionals who have rated their job experiences in Brussels.

ESN took part in the Job Bridge course and won an award for the design and implementation of a validation process for volunteer work.

During 2020, ESN's advocacy and actions obtained high visibility, offered a loud voice to the international students, and addressed a range of topics, from inclusivity in higher education to sustainability. ESN was present in publications such as Euractiv, EU Observer, The PIE News, University World News, DW, Inside HigherEd, Times Higher Education, Science|Business, Research Europe, EAIE Blog and EAIE Magazine, etc

As a fast reaction to the pandemic, in March ESN organised and analyzed the biggest student survey about the direct impact of COVID-19. The published  COVID-19 Impact Report was followed by webinars presenting the results and discussing with decision-makers and higher education practitioners further steps in supporting students.

National organisations and sections of Erasmus Student Network across Europe worked towards helping international students during the COVID-19 pandemic through sharing information and updates, liaising with the education institutions, organising online events, and supporting their fellow peers. The online events and activities around Europe were gathered together on the activities.esn.org platform, offering the opportunity to students to join with a click from any physical place they conduct their lock-down from. 

We kicked off the #ErasmusAtHome initiative when the COVID-19 pandemic started, to help and support international students stuck at home anywhere in Europe during these difficult times, offering the opportunity to share messages, ideas and online invitations in one place.

We offered extra 6 months of validity for ESNcards to the students who have been affected by the outbreak during their mobility.
Thank you, this wouldn't be possible without you! Read more about some of those achievements in the 2019/20 ESN Annual Report. 
We would like to wish you happy holidays spent safely among your loved ones, as well as plenty of motivation to keep working together in the upcoming year!
See you in 2021,
The ESN International Team