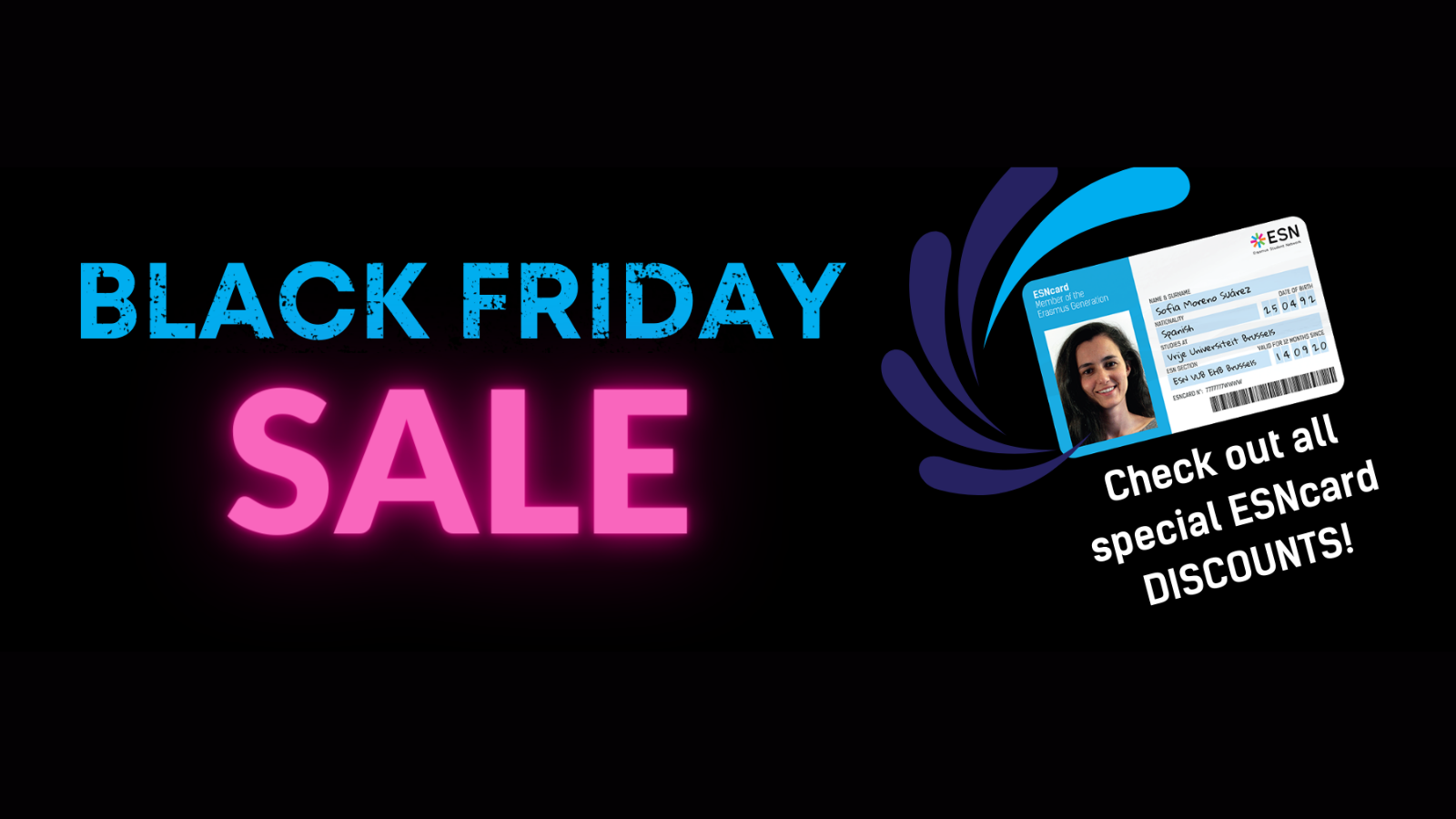 Wednesday, 24 November, 2021 - 13:11
Welcome to the ESNcard Black Friday SALE! You can see all the special deals that our partners have on offer for you! 
Perlego

Get a FREE 6-week subscription to Perlego (valued at €12/month) for unlimited access to over 700,000 textbooks with built-in study tools.
Just use promo code: ESN-BlackFriday21 to get your deal! 
This offer is valid until the 30th of November.
Get started today!

Economist Education



Get 30% OFF GMAT and GRE prep this Black Friday!
Are you applying to business school this year? Don't miss your chance to save on industry-leading GMAT and GRE exam-prep from Economist Education. All plans include access to an interactive revision platform of practice questions and video tutorials, and additional benefits such as private 1:1 tutoring sessions, official practice exams, AWA essay reviews and more.
The offer is valid from Monday, November 22nd until Tuesday, November 30th and applies to Premium and Genius plans only.

Donkey Republic



Green Friday is the new Black Friday! Check out the great deal with the Donkey Republic, Europe's leading bike-sharing company! Rent a fashionable Donkey bike in a few clicks and enjoy your ride to discover your city with full flexibility. Get 50% off using the code BLACKFRIDAY21.
This incredible deal is live from Thursday 25th until Sunday 29th of November.
Join us on our quest to build a greener world!

Spotahome

It is a perfect time to book your accommodation with Spotahome. As this Black Friday, you can get 40% off the service fee. 
Use code: ESN40 to get your discount!
This offer is only valid between Nov 17th and December 1st. 

Rosetta Stone

Begin your language learning journey today and enjoy it for even longer as now you can get an extra month (12+1) for free on top of your annual subscription!
 
Until when? The offer is valid until December 6th!
How? Follow the instructions on esncard.org/rosettastone.
 
Happy learning!
Questo

 
Explore for half price, or see twice as much! This Black Friday, you can book any city exploration game through Questo with a 50% discount, to explore the city any time in the next 12 months. 
 
Use codes: 
FRIDAYUKI (for games in UK and Ireland) and FRIDAYEU (for games in Europe) to get your discount. The offer is only valid on the 26th of November!
 
With Questo, you can explore destinations by playing quests and solving challenges to discover new places and new stories.

Eurosender

Ship your belongings affordably this Black Friday! As with Eurosender, you can get up to a 25% discount! Use discount codes:
EXPRESS15 - For express shipping
REGULAR25 - For standard shipping
The offer is valid from 26th to 28th of November.

Don't forget to treat yourself this Black Friday with these amazing deals! 
Is there more? Yes, there are more great deals waiting for you on ESNcard.org available throughout the year! These offers include travel and transportation, accommodation and other must-have services!