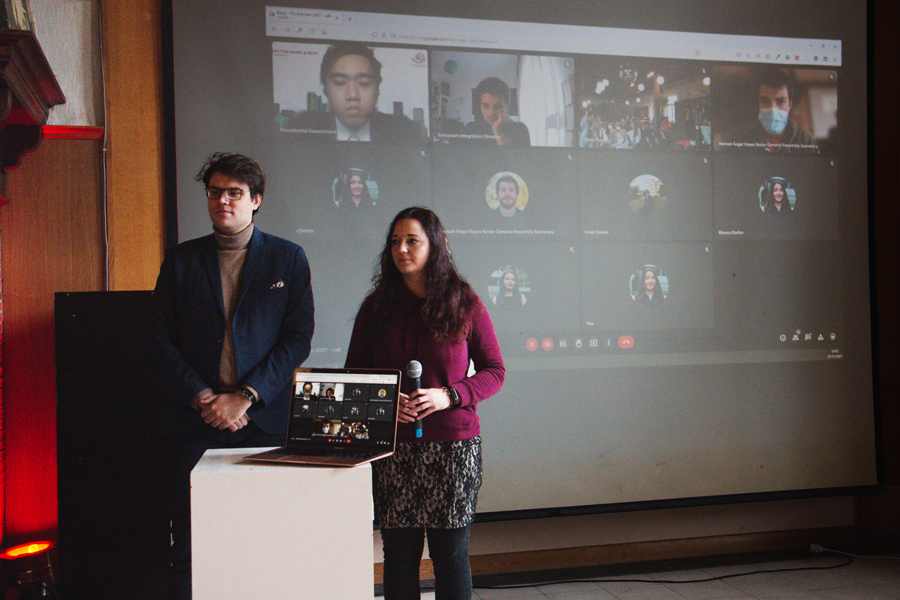 Wednesday, 8 December, 2021 - 13:33
The Erasmus Student Network has launched a revamped associate membership scheme in its path to become the global network of the Erasmus Generation. The associate membership scheme aims to bring together all kinds of youth and student organisations from all over the world that have an interest in the field of learning mobility.
Through the newly created scheme, associate members would be able to benefit from many of ESN's expertise, events, initiatives and services. The associate membership will provide opportunities for capacity building in the field of learning mobility, identifying areas in which the associated members can work together with ESN and between themselves to overcome barriers to mobility and support mobile learners around the world.
In the last years, the Erasmus Student Network has been expanding its connections with student and youth organisations from Europe and beyond, seeing a growing interest in the learning mobility opportunities for young people. The associate membership scheme responds to this need, aiming at supporting the work of organisations that believe learning mobility opportunities can make a positive impact on society.
The scheme is open to any student or youth organisation that shares ESN's values and is committed to the improvement of intercultural understanding and exchange opportunities.
In order to become an associate member of ESN, you have to fill in the Application Form that can be found on our website, and send it to [email protected].
The associate membership scheme has been inaugurated with the approval of three organisations with a strong commitment to learning mobility:
Asian Law Students' Association
The Asian Law Students' Association (ALSA) is a non-profit, non-political organisation that aims to connect law students from the corners of Asia. As an organisation that includes 17 national chapters, ALSA has been a melting pot for various cultures throughout Asia since its founding over 30 years ago. With the sheer number of national chapters that joined ALSA, the organisation has connected around 12,000 students Asia-wide.
"We are excited to be granted the status of Associate Membership of ESN. This will be the start of something amazing for members of both organisations."

ZAY YAR NAING (he/ him)
President
Asian Law Students' Association
European Medical Students' Association
The European Medical Students´ Association – Association Européenne des Étudiants en Médecine (EMSA) is a non-profit, non-governmental organisation representing medical students from all across Europe. Founded in 1990 in Brussels, it is the only voice of students within the European Medical Organisations.
EMSA envisions a united and solidary Europe in which medical students actively promote health. The organisation empowers medical students to advocate health in all policies, excellence in medical research, interprofessional healthcare education and the protection of human rights across Europe.
"EMSA is proud to have been selected as an associate partner of ESN. This partnership has been long-awaited by our members, seeing how EMSA and ESN are already interconnected through so much work being done on both ends with a focus on student mobility. We have applied to this position with the vision of making our student mobility projects connected with a grand network of ESN members and projects, enabling EMSA to take better advantage of their participation in them. Our joint efforts of advocacy and initiatives on student mobility, we believe, will bring our organisations ever closer together and our common passion for making exchange projects accessible to ever more students will lay a solid foundation for our partnership."

Umut YUCEL| EMSA Student Organisations Liaison Officer
European Medical Students' Association (EMSA)
European Pharmaceutical Students' Association
The European Pharmaceutical Students' Association (EPSA) is an organisation representing more than 100,000 pharmaceutical students from 41 Member Associations in 36 European countries. The mission of the Association is to represent, reach and engage every pharmaceutical student in Europe to collaborate on the development of the future of pharmacy and healthcare together, and also to actively engage at student and professional level. The vision of EPSA is to bring pharmacy, knowledge and students together while promoting personal development and a different range of possibilities.
"Bringing mobility opportunities to pharmaceutical students is one of EPSA's priorities. After the restructuring of EPSA Projects, we have decided to establish a close collaboration with a partner having long-term expertise in bringing mobility closer to students. ESN is the right partner to team up with, sharing the aims and principles regarding mobility. Coincidentally, ESN presented us with the possibility to become Associate Members to foster better collaboration. This Membership would allow both organisations to better support and disseminate relevant information, resources and tools, and to discuss and understand the needs of the pharmaceutical students. Moreover, this membership presents a great opportunity to join forces and have a better cooperation on policy and advocacy initiatives to make the students' voices heard.  

We are extremely happy to become an ESN Associate Member and keep working together to prioritise high-quality opportunities for our students and European youth in general."

JANKA LESKOVSKÁ, PharmD, PhD candidate (she/her)
EPSA | Vice President of External Relations 2021-2022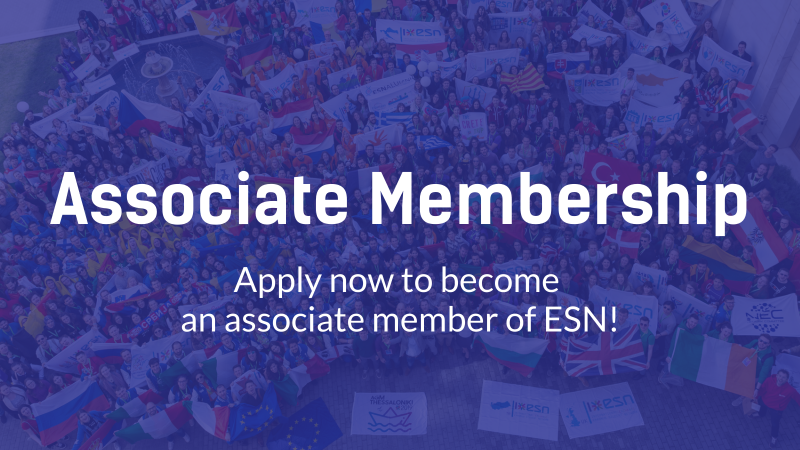 If your organisation is interested in the associate membership scheme, you can contact ESN's International Board at [email protected] or check our website for more information.