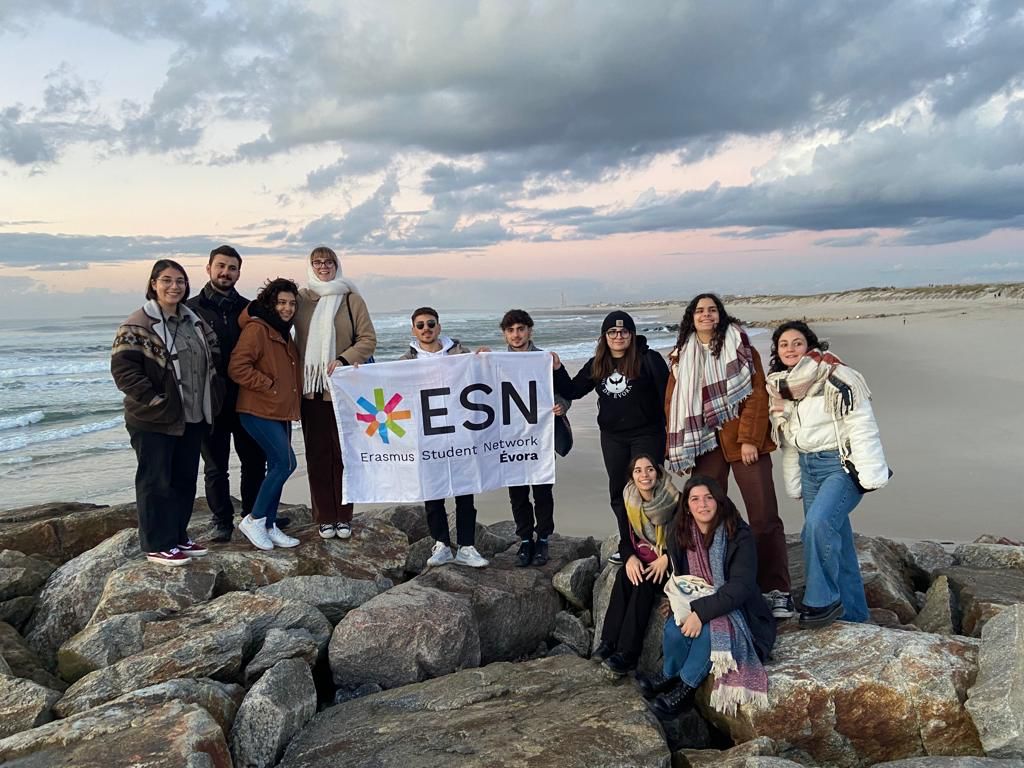 Sunday, 11 December, 2022 - 14:46
"I want to provide a supportive environment for members and students".
"My goal is to integrate students into the local community".
With the Tunas Night event, ESN Évora won the Activity in the Spotlight in October, appointed by the Network Committee of ESN International. For local volunteers from Portugal, it is time to shine and let the world know about the factors that make their events unique.
For starters
In case you are wondering, Évora is located in the South-East of Portugal. Its origins date back to antiquity and Celtic tribes living there before the Roman conquest.
There should be no question about the choice of international students that come to Évora to experience the rich culture. This semester alone, over one hundred students came here for their mobility and ESN Évora welcomed them with a warm spirit that made their arrival feel like home.
The Event You'd Love to Be a Part of
Tunas Night is a common event for Welcome Week in Évora, as it allows the exchange students to encounter Portuguese culture through the typical "tuna" music groups that spread the perpetuity of academic spirit.
For the event, the participants gathered in an auditorium. The performance started with the opening act by the whole group, followed by the presentation of each member and the music itself. They wore traditional black clothes and their music filled the room with wonder. The entire tradition in the academic environment is unique. Additionally, mobility students are welcomed to see what praxe looks like. In Evora, there is a tradition of initiation - hazing - where the 3rd-year students involve 1st-year students in the community.
The Family
ESN Évora currently has around 20 active members. What describes the section best is the word "teamwork". It starts with creating an event calendar together, from preparing to helping out during the initiatives. They have their backs and support each other as they know that each opinion in their section matters. 
<
"We can always count on each other, especially when it comes to decision-making. When we need a common opinion, we just ask, because they are really active, help as much as they can, brainstorm and simply make this section better" says Filipa, who is the local board member responsible for finance.
Events Melting Pot
The members of ESN Évora take care of organising events that students would not come across anywhere else. There are also recurring events (such as karaoke or trivia nights) because they know their exchange students' needs and interests.
"I entered the section during the pandemic, it was hard to motivate myself. Once I started meeting people and hanging out with mobility students, I realised that there's a whole new world you can live in, and that's inspiring: people are very different from each other but they still connect."
Getting connected - the power of collaborations
The section is active also in working together on joint projects. It is a way to help internationals in a variety of ways, yet with the same goals. 
One of the collaborators is FEA - Fundação Eugénio de Almeida, which works on a voluntary basis as well. Another one is with a feminist group Núcleo Feminista de Évora, who participate in actions together on stopping violence against women or create a support group for minority groups.
Having the impact
ESN Évora represents every bit of local heroes that truly care about the international newcomers. With such a spirit, they have a tangible impact on the academic community, steady contact with exchange students and the list of possibilities is constantly being developed, also through the power of local collaborations.
"Just when international students do something meaningful, they experience getting to know the community, and they don't feel like outsiders", explains Madalena, the local vice president.  "To me, events through which we integrate international students can also be impactful because they mean students are not left alone. It can change their lives as well", adds Filipa. 
There is however one question that still needs to be answered: What's the recipe for a successful ESN section?
"Not seeing each other as coworkers. You choose to work together and do it well while doing it. We became a family. Of course, sometimes we get annoyed with each other but that's normal. At the end of the day, it's amazing to see international students and ESN volunteers grow together".
Stay tuned to their activities and follow their social media:
---
Activity in the Spotlight is a project led by ESN's Network Committee which features outstanding projects within the local associations of ESN to inspire others and learn about the diversity and impact of the Network.