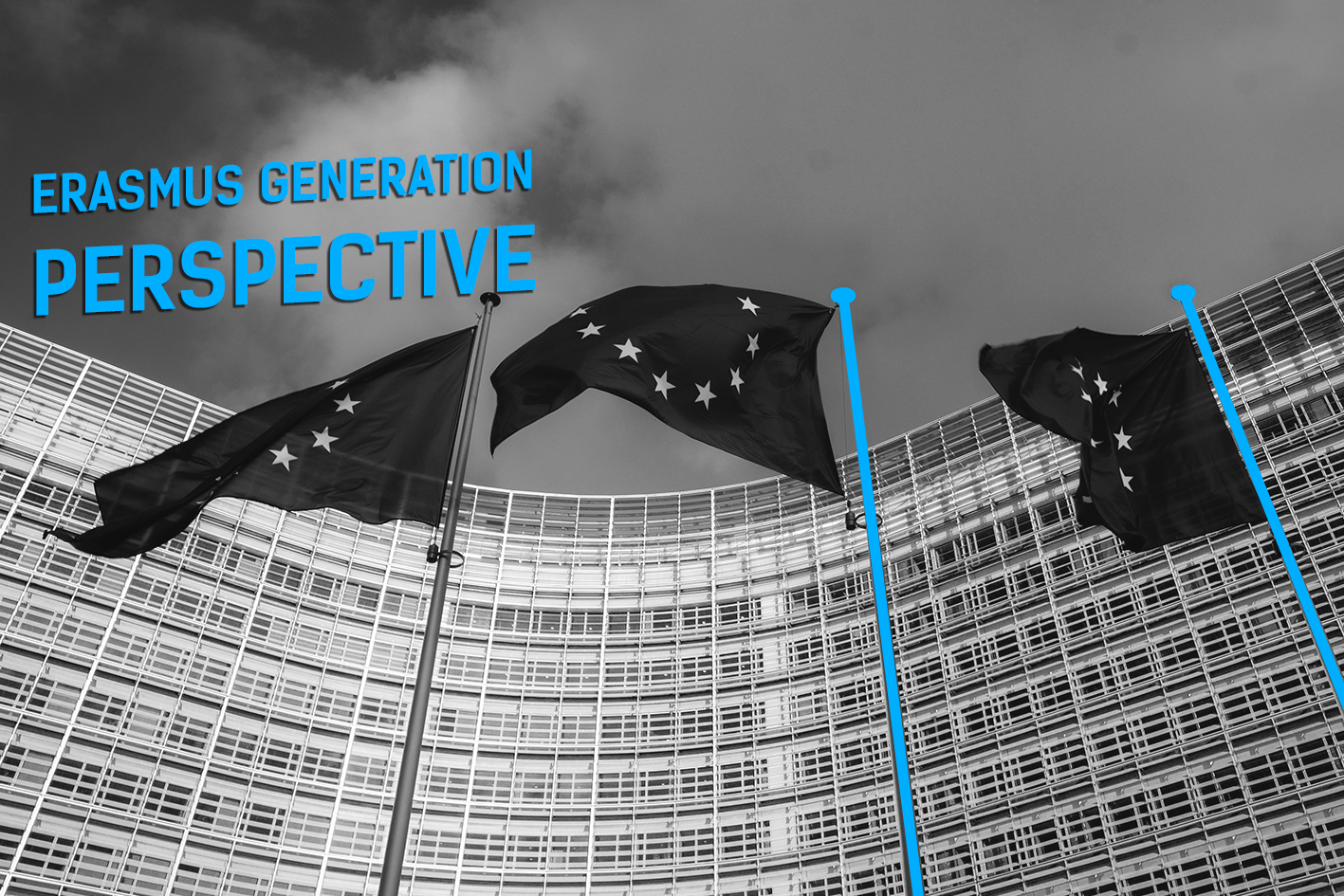 Tuesday, 10 August, 2021 - 15:09
* Erasmus Generation Perspective articles are written by ESN volunteers to share the student voice on current policy developments in the field of international education. The text represents the authors' individual perspective and not an official statement of the Erasmus Student Network.
---
The European Union (EU) consists of 7 main institutions – European Council, Commission, Parliament, Council of European Union, also, European Central Bank, European Court of Justice and European Court of Auditors and other lower-level agencies and bodies. The main institution buildings are spread out over 4 countries-Belgium, Netherland, France, Germany.
If you picture and dream about building a career at one of the EU institutions, the best and well-applicable way is to start exploring a wide range of Traineeship opportunities offered and run individually by the EU institutions and agencies. Students and university graduates are offered a traineeship between 3 to 5 months to increase their professional skills, develop personal qualities and enhance their EU knowledge within a broad selection of fields and areas where the EU improves the lives of people in Europe.  For example, politics and development, competition law, international relations, security and borders, human resources, environmental policy and climate action, employment and social affairs, education and training, EU enlargement, humanitarian aid and civil protection, public health, food safety, finance and trade and etc.
First and foremost traineeships are a great insightful opportunity to step into the EU institutions through the field of your interests. Fortunately, a major number of internships at the EU institutions grant monthly scholarships, even travel and visa allowance, reduction cards and health/accident insurance, but bear in mind all depends on the respective institution. Furthermore, there are some exceptions. For example, the Council of EU offers 4 types of traineeships from which, for instance, is compulsory unpaid traineeships with their paid counterparts. This unpaid training is for students and it can be an integrated part of their studies. There are 3 other types of traineeship opportunities open for EU citizens or citizens from candidate countries that have concluded EU accession negotiations.
When it comes to the eligibility and selection procedures for traineeships, the EU institutions and agencies run individual agendas and schemes for the entire steps. Therefore, depending on one's interest, one has to refer to the right websites for the specific requirements. The competition is tough, per intake term more than thousands are applying for internship positions. For instance, the European Commission's Blue Book traineeship programme, October 2021 session overall number of received applications comprised 13 875, from which 10 837 were EU citizens, while 3038 were non-EU citizens. Usually, 2,000 pre-selected candidates get into the blue book database from which around 600 candidates are admitted. In comparison, every year 21,000 people apply for a traineeship at the European Parliament of which 900 of them are selected.
Below is presented a brief overview of two of the most popular EU Traineeship opportunities followed by personal comments from the former trainees. The capacity of this article only allows for this small number of internships to be described however at the end of the article useful web links for guidance towards related perspectives can be found.
European Commission 
Blue Book traineeship programme offers a 5-month paid administrative or translation internships in EU Directorates, Institutions and agencies. The Scholarship amount is  €1,220.78 with a travel allowance. The programme has two intakes per year starting on 1 March or 1 October, the application period starts 7 months prior. Trainees can gain hands-on experience in EU policy-making surrounded by a multicultural environment. Also, a limited number of places can be granted for non-EU citizens. The main eligibility criteria are university degree (at least Bachelor or equivalent), knowledge of EU languages - the Commission's working languages are English, French and German, also, here language proficiency varies between translation and administrative traineeship options, plus but not necessary is work experience.  Right now registration for March 2022 is open till August 31!
Nothing can be more precious than personal advice or if you wish guidance that may cost your life, dozens of mistakes and well, sometimes paid services too. I asked passionate ESNer and experienced trainee of the above-mentioned programme to share valuable insights. Usually, the most interesting question before applying is How to prepare the Motivation Letter and second - What has been gained through this experience and How have been grown as a professional?
Stefano Consoli - Blue Book Trainee at the European Commission, DG ECFIN (Economic and Financial Affairs) for 10 months, then one month in DG EAC (Education, Youth, Sports and Culture - Traineeships Office). Who has a background in Political Economy both BA and MA:
"Being honest is very important, however, it does not mean that you have to underestimate your value: the way you describe what you did can make others appreciate your curriculum or think you did nothing, depending on how you present it. In my case, I decided to focus on my ESN experience, even if it wasn't my only "work" experience and it was unpaid. As I was asked to select three relevant work experiences, I decided to choose ESN at the Local, National, and International levels. I think that we all agree that the added value in ESN is huge".   In the end, he adds - "Another small piece of advice: when choosing the three work experiences that I mentioned, always be sure to be able to prove them. You will be asked at a later stage to attach a contract or a reference letter."
And also Stefano shares his takeaways about his own personal and professional growth:
"EU institutions are a wonderful experience. I could learn even more about teamwork. I liked the way the work was organised, the teams, the friendly but professional environment in the EU institutions are the possibility to enlarge one's network. Even if my traineeship happened during the pandemic and we almost always worked from home, thanks to the Trainees' Committee, I could meet - mainly virtually, in the beginning - a lot of colleagues and interesting people that I am still in contact with and with whom I started other projects and activities."

European Parliament Traineeships 
Traineeships for university graduates are also called Robert Schuman traineeships. The traineeship goal is to contribute to EU citizens' European education and vocational training as well as provide an insight into the work of the European Parliament.  Like the EC Blue Book traineeship programme, it also lasts for 5 months with March and October as the starting dates. The monthly allowance, depending on the place of assignment, is around 1,300€. Candidates can apply for 3 traineeship offers per call. Some eligibility criteria are being the university graduates aged 18 and over, knowledge of the official languages of the European Union and applicants should not have worked for more than two consecutive months within the EU institutions. Placement Location(s) can be  Brussels (Belgium), Luxembourg (Luxembourg), Strasbourg (France) or other EU cities.
Passionate ESNer and experienced trainee Mario Tsekoski - European Parliament trainee and later hired temporarily. He has a Bachelors in International and European studies, Master's in Public Administration: International and European Governance. Answering the same questions starting with a motivation letter:
".... the essence of the Motivation Letter, should be on 'Why us'.  - to actually explain as precisely as possible why we are fit for this profile and how we would benefit the corresponding party. It is a way to explain who we are, but we should not delve too much since that is the duty of the CV. The ML should promote how our experiences gave us 'practical' skills which can be put to use in the corresponding position." And he continues "if we do not possess actual experience that we can account for -especially for internship positions- then the focus falls attempting to convince the other party that we are more than capable to conduct the duties required based on our knowledge and background i.e. degrees, seminars and others."
And Mario remarks about his professional growth
 "I had the privilege to witness from the inside the modus operandi of one of the major institutions as well as 'decision-maker/taker' of the European Union. I managed to gain a load of practical skills, enrich and hone the already existing ones be it from how to professionally reply to an email up to how to conduct data investigation and analysis, budgetary executions and others. In other words, I moved from the theoretical part that I was being prepared all my life by studying and acquiring degrees to the practical aspect of the working life reality."
On top of that, the best advice is to learn about the EU institutions, bodies, agencies and other supportive bodies first, search and list them by your priority of interests where you can imagine the best possible future after your graduation. To keep yourself in the loop European Personnel Selection Office  and Eurodesk are the two very convenient and useful web pages to navigate through opportunities offered by the EU institutions and filter upon your interest and moreover, to learn about when are the specific deadlines and requirements for the respective Traineeship calls, for example, here are quick access to other internships -  (ECB) European Central Bank Traineeships, The Court of Justice of the European Union and European Court of Auditors
And now -  Are you ready to start shaping Europe together?
---
References: