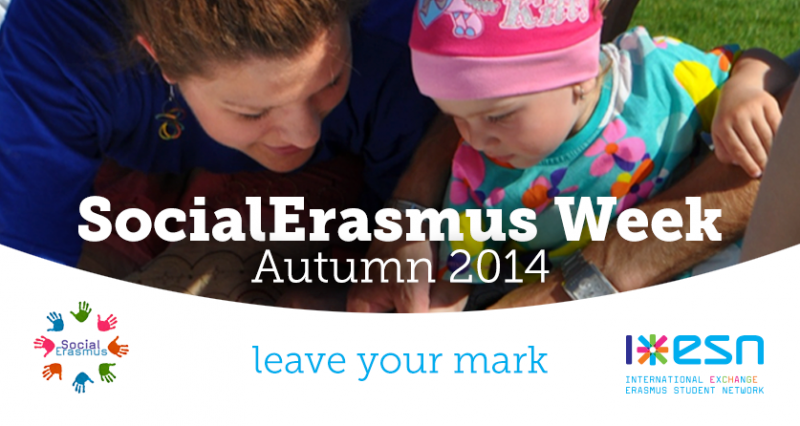 Thursday, 6 November, 2014 - 14:12
ESN (the Erasmus Student Network) sections all across Europe will organize their own SocialErasmus activities within the SocialErasmus Week: Autumn 2014 held on November 10-16.
​
The SocialErasmus project
SocialErasmus (SE) is an international project of the Erasmus Student Network with the aim of involving international students participating in university exchange programs into social and volunteering activities in their host countries. The project promotes a social attitude among international students and facilitates their social integration into the local community while exploring the added value that resides in diversity in Europe.
SocialErasmus has three different pillars which the project focuses on:
Charity: Social activities with a charitable purpose.
Environment: Activities that promote environmental thinking or serve an environmental purpose.
Education: Educational activities that integrate international students with the local society.
Past successes
The SocialErasmus Week was organized for the first time in 2012 with the objective of creating a European movement around the SocialErasmus project.
All ESN sections are encouraged to organize their best and most innovative SocialErasmus activities during this week. The objective is to give the international students the opportunity to take part in the SocialErasmus Week in their host country and to have a positive impact on the local community.
In 2012, 5000 people were engaged in SocialErasmus activities that were organized by ESN sections in 20 countries all over Europe.
In 2013, more than 400 SocialErasmus activities were organized by 178 ESN sections in 28 countries all over the Network.
More information
You can find more information about SocialErasmus here: www.socialerasmus.esn.org
About SocialErasmus Week: Autumn 2014: