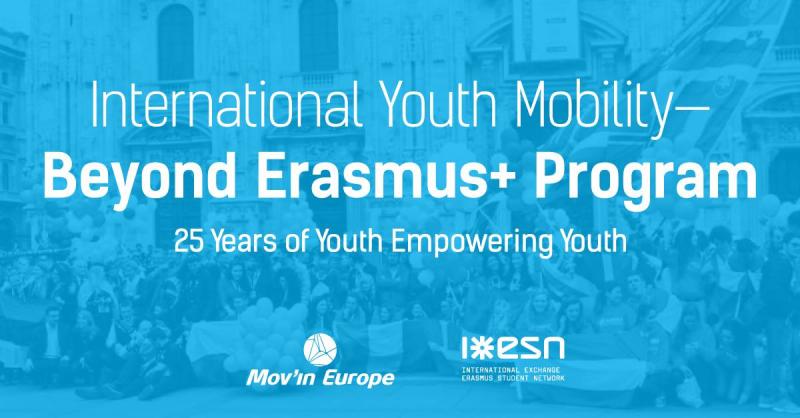 Thursday, 13 November, 2014 - 13:33
The biggest event for Mov'in Europe this year is coming. The Erasmus Student Network is organising a conference on November 17th in the European Parliament in Brussels where we will discuss the growth of mobility programmes!
International learning mobility opportunities for young people have widely increased in the last 25 years. The Erasmus+ programme follows this trend and will allow 5 million people to experience mobility by 2020. Despite the wide positive impacts of mobility, the ET2020 strategic target of 20% mobile students by 2020 is very likely to fail.
Therefore this event comes as a milestone within the 25th anniversary celebrations of the Erasmus Student Network. Looking back at 25 years of mobility and volunteering, we want participants to take part in shaping the future of mobility by discussing possible solutions and engage in provocative discussions.
We'll engage in active brainstorming through innovative activities in order to identify recommendations aiming at shaping the future of learning mobility!
Speakers
MEP Therese Comodini Cachia

will warmly welcome the participants of the conference with the opening speech.

Stefan Jahnke, President of the Erasmus Student Network will discuss the 25 years of volunteering for the 

future of mobility

Valentin Dupouey,

the Mov'in Europe 

Project Coordinator will present

the project and the official launch of the Mov'in Europe Ambassadors initiative

Davide Cappechi from EU-CoE Youth Partnership will hold a presentation of the European Platform for Learning Mobility
Representatives of OBESSU witll present the ESU/OBESSU Global call for Education (International Students' Day)
​
Parallel interactive workshops
Reaching NEETs and making mobility more accessible for all
Turning international mobility into active citizenship
Recognition of mobility and employability of young people
More information
Date: 17th November 2014 at 8:45 AM
Venue: European Parliament, Joszef Antall, 6Q1
Contact: [email protected]