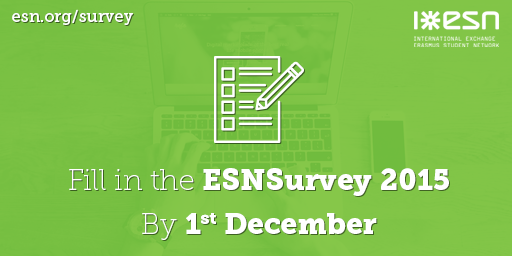 Monday, 20 October, 2014 - 12:21
The Erasmus Student Network AISBL (ESN) has recently launched the new questionnaire for the ESNSurvey 2015 edition.
ESN has been conducting this research since 2005 and has collected over 100 000 responses which have allowed us to have a deep insight into students' situation. With this information, ESN has been able to produce high-quality research reports with many recommendations for European policy-makers, National Agencies and Governments, Higher Education Institutions and students' associations.
Preparing students for their experience abroad
The 2015 edition will study four main topics. To start with, accompanying measures for Erasmus will be studied. The Erasmus Student Network considers that there is much to do when it comes to preparing students for the international experience before actually going abroad and also when it comes to personal counselling after their experience abroad. ESNSurvey 2015 will investigate whether students enjoy this pre and post-Erasmus accompanying measures, the quality of such services and will try to spot best practices and identify missing actions which could be implemented to improve Erasmus.
The Erasmus movement is sometimes known for isolating itself apart from the local community in an Erasmus bubble. ESN offers many integration opportunities for international students to mingle with local students, so that the former can get to know more about the local culture and the latter can be exposed to the effect of internationalisation at home.
An innovative approach
Furthermore, the 2015 edition will bring an innovative approach: the study of the economic impact of the Erasmus programme at local level. The aim is to study to which extent the Erasmus programme has an impact in the local communities. Besides, issues related to grants and to students' behavior when it comes to travelling and cultural activities will be studied.
Students helping students
As every year, the ESNSurvey evaluates the satisfaction with students' organisations. Moreover, it will investigate how student associations can encourage or discourage local integration and which activities should be improved.
...and improving the future of mobility
In the next 2 months, students will be able to share their experience with us. For every answer, a brick will be donated for a school in Guinea Bissau. All in all, the ESNSurvey 2015 will continue to investigate interesting topics with the only objective of improving international mobility in Europe.
---
Check the ESNSUrvey 2014 report