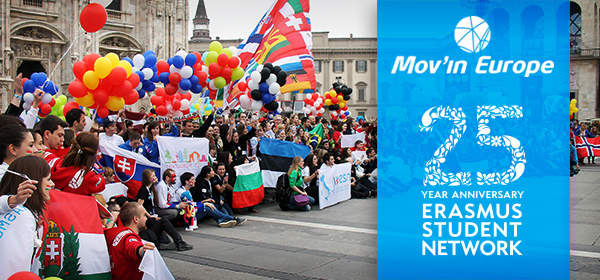 Tuesday, 26 August, 2014 - 16:47
Do you believe in the Erasmus spirit and the benefits of living abroad? We've lived them all and we are sure of them!
On October 16th we are celebrating the 25th Anniversary of the biggest student organisation in Europe - the Erasmus Student Network. We want to share our message with the world together with YOU!
We believe in student mobility.
We believe it changes lives of young people and we want more of them to go abroad! Help us convince more students to take their first step!
Join our Thunderclap campaign to send out a common message across all platforms
Take the first step!
We are going to organise flag parades in the city centres of Europe. We want to invite all young people around Europe to join our action and march in our national colours all together! Wear your flag, paint it on your face, walk proudly with your international friends and help us make a statement:
Live, study and work abroad!
Find your local ESN section on our page and join their parade!
During the week of October 13th to 19th upload your pictures and videos with your flags using the hashtags #MovinEurope and #ESN25!
Why? Because Mobility is a lifestyle!