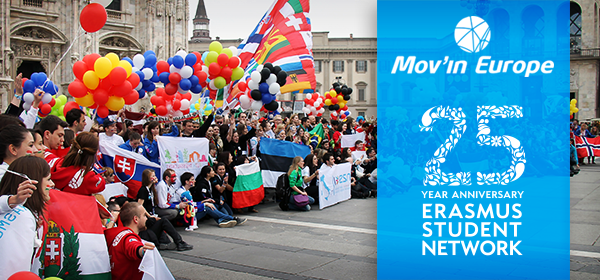 Monday, 13 October, 2014 - 17:49
On the 16th of October 2014, Erasmus Student Network (ESN) is celebrating its 25th anniversary. More than 14 000 members of the biggest Europe student organization will be celebrating all around the continent between 13th and 19th of October, through organizing flag parades across member countries and a massive online flashmob.
ESN[1] flag parades invite ESN sections in 37 countries to unite their volunteers, exchange students and partner organisations for bringing attention to student mobility and benefits it gives while showing their national colors. Action is aiming to celebrate 25 years of promoting mobility and encouraging people to take a step further in their lives while going abroad.​
Reaching a million people in one minute.
The online ESN flashmob "Take the first step abroad" has already reached  a million ESN followers and will be officially released on 16th of October at 8:30 pm (CET). Exactly at this moment more than 1500 online supporters of the campaign will simultaneously share the same message on their Facebook, Twitter or Tumblr walls. ​
​
---
I want to take my first step abroad. What should I do?
That's brilliant! 

Check out our Student Guidebook! ​It will explain to you the different opportunities to go abroad and your rights and obligations as an Erasmus student. It will also give you guidance on what and when you need to prepare to get full recognition of your studies abroad!
More questions?
Check the Frequently Asked Questions about Erasmus+ prepared by the European Commission!
[1] Erasmus Student Network (ESN) is a non-profit international student organisation. Our mission is to represent international students, thus provide opportunities for cultural understanding and self-development under the principle of Students Helping Students. We are 13.500 members from 460 local associations in 37 countries working on a volunteer base in Higher Education Institutions. We are offering services to 160.000 students. ESN works for supporting and developing the student exchange from different levels and providing an intercultural experience to those students who cannot access a period abroad